BizSmart™ for Banks and Financial Institutions, is an Integrated Legal Documentation Management System, enabling automation and digitalization of a rather costly and time-consuming process.
The compilation of legal documents filed by the bank's potential and existing customers, as well as the following legal consultation by the bank's legal advisors is a prerequisite in order for an entity, either a company or an individual, to either become a customer of the bank or renew its relationship
The Legal Documentation Management Process involves various worksteps and requires the execution of numerous processes and tasks on a daily basis.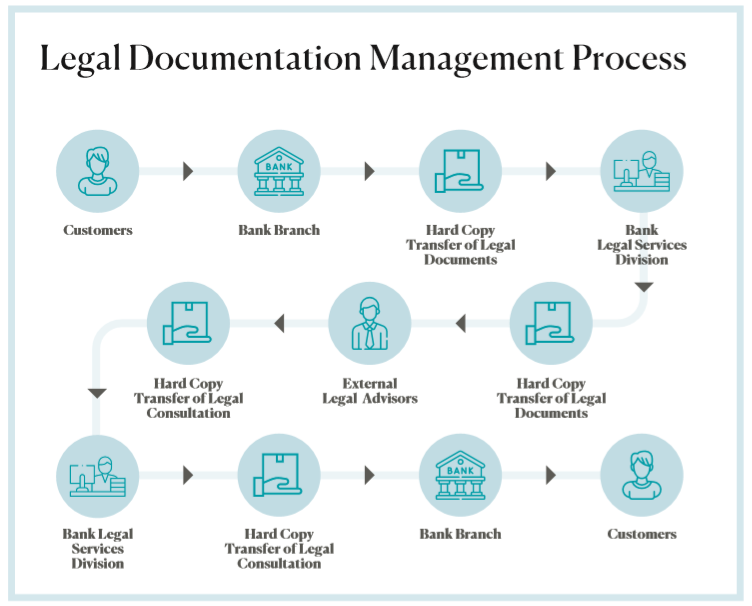 The key consequences of the lack of automation can be summarized in the following:
High Cost
Signi­ficant Delays
Potential Loss of Documents
Errors due to manual data entry
Limited capability of tracking legal consultation progress and due dates
Limited capability of producing integrated reports that facilitate business decision making since data are stored in various IT tools and applications
Increasing need of storage facilities due to large volumes of printed legal documents.
Trusted by banks, such as Eurobank and Alpha Bank, for over 15 years, BizSmart™ for Banks is an advanced Legal Documentation Management System that achieves a significant impact on related Key Performance Indicators (KPIs), through process simplifi­cation and End-to-End process automation:
20-50% – Increase in Productivity
30-90% – Reduction in Delays
80% – Reduction in End-to-End Process Time
100% – Reduction in Hard Copy Storage &Transfer Costs
Feature wise, BizSmart™ for Banks implementation, begins with the graphical representation of worksteps that are then automatically accompanied by a functional implementation stage, through a typical web browser on internet or intranet environment. Our system is feature-rich yet fully customizable and with a multilanguage user interface.
BizSmart™ for Banks Overview
Seamless Integration with existing Bank Systems & Applications
Integrated information flow, through Open Architecture that interfaces with existing systems & applications (Enterprise Application Integration).
Management & Reporting
Effective management and control of the process through tracking and control of: "who", "where", "how", "when" and "why".
Extraction of integrated reports that facilitate decision making.
Risk Reduction
Mitigation of related operational risks (e.g. GDPR, Health & Safety), through the replacement of hard copy documents and folders, with e-documents and e-forms. Improved security.
Employees' empowerment
Better allocation of responsibilities for all personnel involved and increased daily number of processed requests, without simultaneous increase in demand for human resources.
Increased productivity of employees, who have more available time to deal with the substance of their work, and not with bureaucracy.
Automated, error free and easy end-to-end process execution on a user-friendly system.
Enablement of remote working.
Customer Satisfaction
Improved customer experience through:
Meeting service time promises to customers
Accurate status updates
Error-free customer service
Remote service capability
Download BizSmart™ for Banks pdf