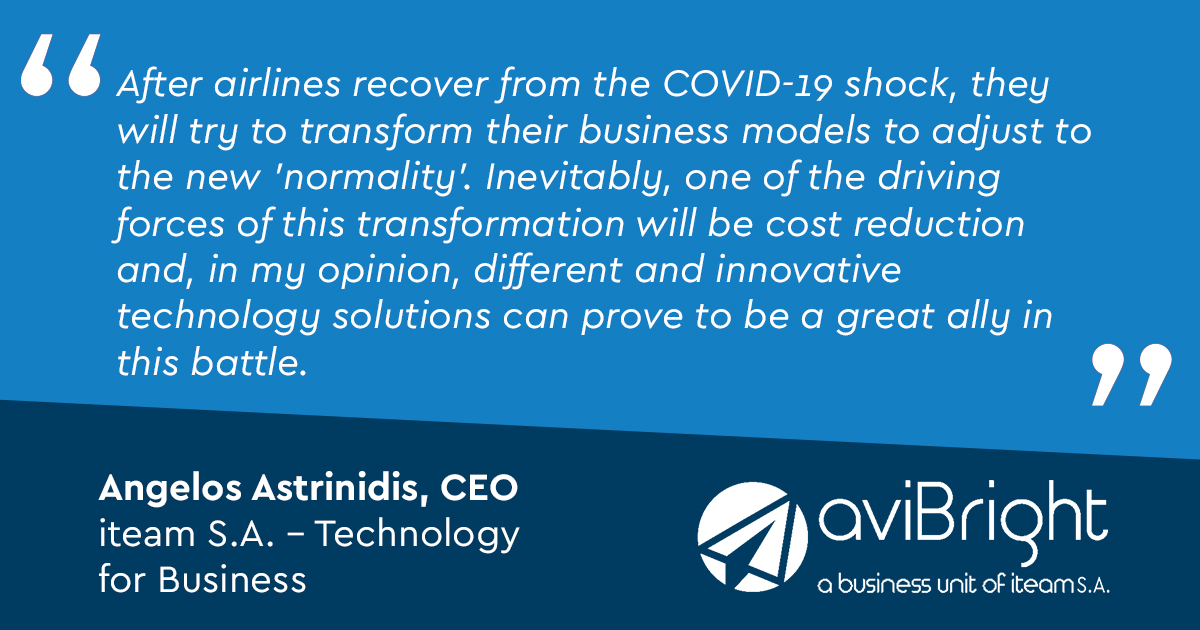 Angelos Astrinidis, CEO, iteam S.A. – Technology for Business | ATN.AERO Interview
–
ATN: What is your company's experience in technology solutions for airlines? 
AA: Founded in 1999, iteam is a dynamic technology solutions provider for large and medium sized enterprises. Back in 2012 we were chosen by Greece's flagship carrier, to design and develop technology solutions for both critical and less critical functions and related processes, and so far we have successfully delivered more than 50 different custom technology solutions.  
Our exemplary collaboration with this airline introduced us to this fascinating and unique industry and led our decision to develop a dedicated Strategic Business Unit (SBU) aviBright that offers unique Value-for-Money solutions for airlines. 
ATN: Aviation is one of the most severely hit industries by the COVID-19 crisis. How do you think the aviation industry's comeback will look like?
AA: Indeed, the entire world is facing extreme and stressful circumstances and aviation is at the top of the list of the affected industries. According to IATA, the first recovery phase will require significant government relief measures, combined with cost cutting efforts by airlines, so that they can stand on their feet again and gradually start reforming their business in the post-COVID19 era.    
We all realize it is going to be really tough but on the other hand, as experts put it (Forbes, How The Airline Industry Will Transform Itself As It Comes Back From Coronavirus), the long-term outlook for aviation and travel will continue to be bright, since demand will always exist.
After airlines recover from the COVID-19 shock, they will try to transform their business models to adjust to the new "normality". Inevitably, one of the driving forces of this transformation will be cost reduction and, in my opinion, different and innovative technology solutions can prove to be a great ally in this battle.  
ATN: Other than reducing cost, in which other ways can technology support an airline in the quest of improved overall performance in normal circumstances?
AA: Across industries it has been proved that digitally advanced companies achieve new levels of competitive advantage and the airline industry is no exception to this rule. 
Technology acts as an enabler for companies with a clear and coherent digital strategy that drives the diligent selection of the right technology tools to:
automate, transform and streamline processes, 
support new business models,
simplify the job of employees and reassure the quality of their work, and 
elevate customer experience.  
As one means for achieving the objectives of their digital strategy, technology solutions, allow companies to simultaneously realize significant cost savings and improved productivity and performance, thus become more profitable.
ATN: Each airline invests in critical systems and specialized platforms that support its operations and distribution. Are there other technology tools that can further support airline functions and processes and have an impact on its performance?
AA: Other than those focal systems at the core of airlines' operations and distribution, usually there are numerous other peripheral apps and tools that support specific functions. Yet there is a wide variety of business processes and activities of airlines that are either not automated at all or are automated but not in an optimal way. This is where innovative, user-friendly, digital technology can make a difference. 
I will clarify this with an example:
When we were designing our Cabin App & Operational Flight Reporting tool, we recognized the extent of the application complexity problem that many airlines are facing. There are too many applications – a pilot and the crew members might need to use up to a dozen different apps – with different credentials, different interfaces and no integration with required enterprise systems to facilitate data entry, while reporting may still not be properly supported. 
This is why we decided to name our Cabin App solution Crew Life Simple (CLS), and made sure that it does exactly what its name says! 
Our CLS app integrates with all necessary enterprise systems, providing real-time data and uniquely combining a series of required cabin crew processes and activities in a single, user-friendly application. To name a few, it facilitates:
● Crew Roster ● Crew Information ● Service Reports ● Passenger List Summary ● Passenger List Seatmap ● Passenger Connections ● Aircraft Movement ● Flight Crew Notices & Memos ● Service Report Feedback ● Crew Messages ● Ground Handling Information ● Flight Bucket ● Cabin Feedback ● Premium Customers Alert ● Special Meals ● Contracted Ground Equipment ● UPGD Upgrade in-flight ● Aircraft Differences ● Crew Meals.
Achieving its basic purpose, CLS makes cabin crew tasks simple, hassle-free, paperless, error-free and increases cabin crew productivity overall. On top of that, knock-on effects include cost savings (e.g. less paper cost, less crew meals cost), improved passenger experience deriving from personalized services, better overall quality of service provided by flight attendants. Last but not least, CLS's comprehensive operational and service flight reporting system allows for instant monitoring, rapid assignment of corrective actions, identification of systematic problems, risk assessment and root cause analysis. 
This is an example of how business automation can assist in cost reduction, while ensuring happier employees, happier customers and valuable insights for managers to facilitate real data-driven decisions. 
A similar example of a system also accomplishing the above is our Disruption Management System – Hyperion, that Mr. Panos Nicolaidis, Director of Ground at Aegean Airlines recently presented to ATN.  
ATN: The examples that you gave us have to do with solutions that integrate with existing enterprise systems to better serve the airline's functional objectives. Is this the way that automation can technologically upgrade an airline? 
AA: Yes, this is one way, but it is not the only one. An airline can also achieve great monetary as well as non-monetary benefits, such as saving time, diminishing errors, boosting productivity and facilitating employees to do their job, via automating various stand-alone workflows and manual processes.
Let me give you some examples of that: 
Manual codeshare management is a painstaking job that demands focus, dedication, prompt actions, and very often it becomes a puzzling task for the network planner. Our Codeshare Management System – Syndesis transforms the daunting process of generating operating and marketing flights, into an easy and error-free one. The system reads and filters SSIM files, then pinpoints possible differences that require resolution and finally generates updated and accurate SSIM files. The day-to-day work of the network planner is optimized and simplified, while the airline can honor its commercial agreements and safeguard its compliance rate through better synchronization. Furthermore, the system also gives the opportunity to airlines to explore new profitable codeshare opportunities, via uploading the schedules of potential partners, in order to explore hypothetical scenarios and make data-driven decisions. 
Another example of manual process automation that does not require any integration with core systems and proved to have an extremely fast Return on Investment (ROI), is our Uniform Management System – Endysis. Endysis is a web application for centralized real time uniform management, from ordering and sizing, to assignment and final discard, that enables a surprising reduction of the cost related to the process. The system automates the compilation of a uniform, based on employee's position and role, and the assignment of uniforms to employees. It allows for real-time monitoring of warehouse and inventory, stock update, notifications and alerts in case of "faulty" assignments, purchase forecasts, vendors comparison and accountability and maintenance (cleaning & repairing) management.
The last example in this type of technology solutions is the Borescope Inspection Management System, a web-based application that allows airlines to automate the process of filing inspection reports, keeping track of any pending inspections, planning all future checks and monitoring the entire borescope inspection process. The inspector can save reports (both data and media) and documentation of findings at the same repository and the Inspection Management Team can extract engine statuses accurately and timely, so that they resolve and avoid possible critical issues. 
ATN: Based on your experience, what is the greatest contribution of business process automation to the digital transformation of an airline?
AA: If I were to distinguish one of the most impactful contributions of business process automation, this has to be that it facilitates the transformation of data into intelligence and knowledge that drive profitable business actions. 
Guided by the needs of our client, we have developed an integrated Business Intelligence Solution for airlines that provides a real-time overview of all important Key Performance Indicators (KPIs) that need to be continuously monitored by top and middle management, so that they can make timely data-driven decisions and optimize resource deployment.
We detect and collect structured and unstructured data, such as database exports, excel files and other data formats, from various internal and external sources. The data are being normalized, combined and then visualized into dynamic live visuals such as charts, maps, and graphics. This information is uniformly shared across departments and C-level management, and serves as a single point of information and collaboration. 
At this point in time we are also exploring the possibility of adding to our Business Intelligence Solution features that are powered by Machine Learning (ML), in order to provide decision makers with the capacity to better see the relationship between trends, patterns and behaviors, previously "hidden" in data and to develop effective forecasts.