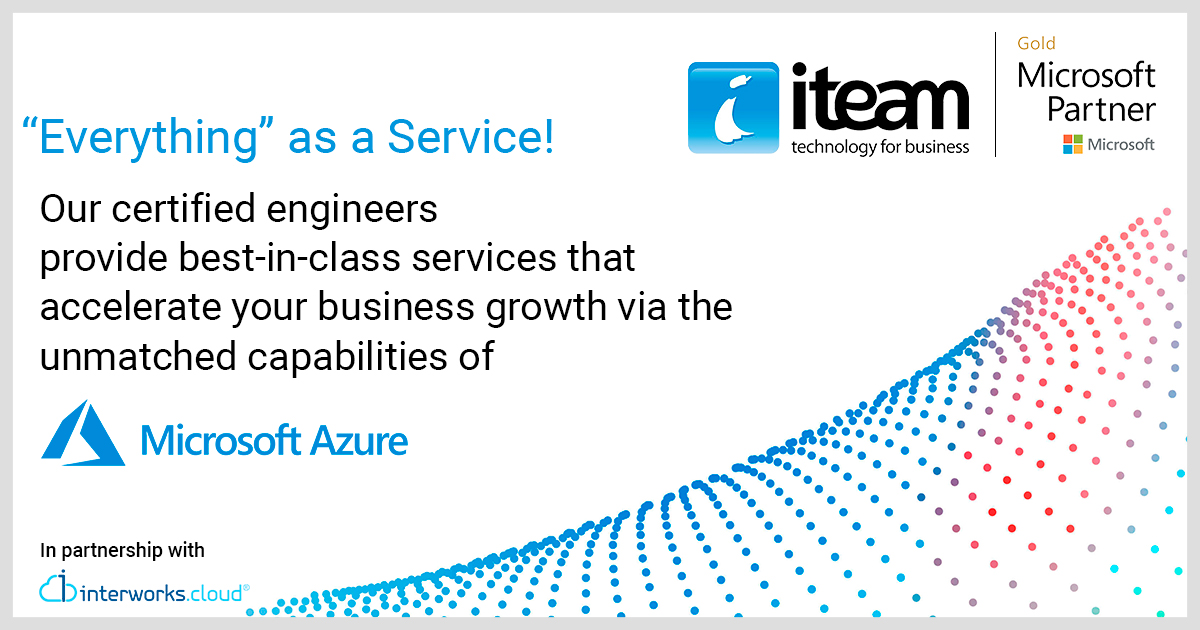 iteam now provides Azure based cloud services
In their quest for more convenience, lower costs and increased efficiency, more and more companies move their traditional IT, both hardware and software, to the cloud. Although cloud computing has become a foundation of digital business, many organizations still struggle to optimize this powerful tool (Gartner).
In response to these trends, iteam now provides Azure based, cloud services for efficient and smooth XaaS and IT Operations transitions,  in cooperation with Interworks SA. Our Azure certified experts can help companies across industries choose the optimal cloud solutions mix and shape their unique cloud strategy cost-efficiently.

About Azure                                                                        
Azure is Microsoft's public cloud platform for implementing, running and managing apps, websites and IT infrastructure. Azure offers 4 different forms of cloud computing: infrastructure as a service (IaaS), platform as a service (PaaS), software as a service (SaaS) and serverless. As a platform for cloud computing, Azure offers a wide range of services including those for computing, storage, networking and analytics. As a public cloud benefit, users can pick the services they want to use, scale-up and down on demand and pay only for the actual usage of these.
The Azure platform aims to help businesses manage challenges and meet their organizational goals. It offers tools that support all industries and is compatible with open-source technologies. This provides users with the flexibility to use their preferred tools and technologies.

About Interworks SA                                    
Interworks SA (registered trademark interworks.cloud), pioneers in providing the best-in-class IaaS, PaaS and SaaS. As a leading Cloud Service Distributor and Provider in the Greek market and abroad, the company is counting 14+ partnerships with software vendors like Microsoft, Acronis and others. Interworks SA is a Microsoft Gold Partner and a certified provider for all its vendors providing first-class 24/7 support.
The company currently operates one of the largest cloud data centers in Greece, providing a wide range of cloud services (Cloud Servers, Databases, Backup, Security, S3 Storage, DR as a Service, Business Continuity).