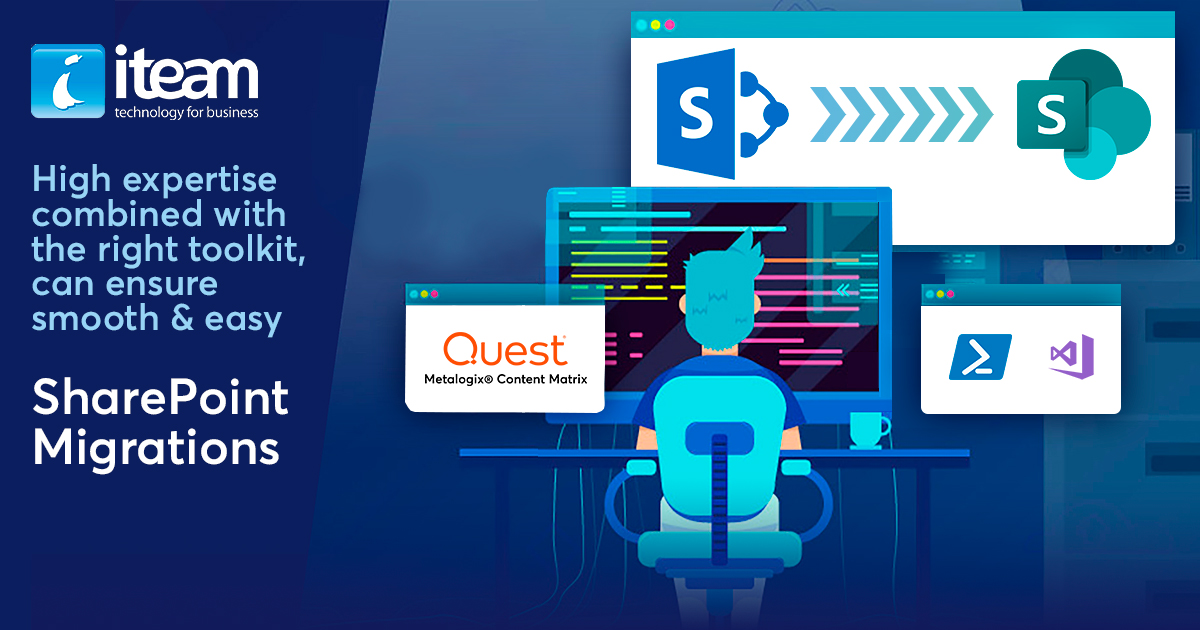 Hassle-Free SharePoint Migrations
Migrating a company's SharePoint environment to newer SharePoint versions used to be a daunting task, requiring substantial effort and very diligent preparation and assessment.
Our extensive experience on SharePoint migrations over the years, has showed us that migrations can actually be smooth and easy, given that the right tools and methods are selected and implemented based on the specific needs of each customer.
iteam's toolkit for hassle free SharePoint migrations includes Quest Metalogix® Content Matrix, Powershell, Visual Studio and SQL Server scripts. Even when custom .NET solutions, workflows or branding elements cannot be migrated as is or not supported at all in newer versions, we are able to offer consulting and custom development services that ensure smooth and successful transitions.
The landscape of SharePoint migrations has changed drastically with the introduction of Quest Metalogix® Content Matrix; a very powerful tool that adds automations that reduce risk, while ensuring governance control and a distributed workload migration.
As a Silver + Quest Software Partner and reseller of Quest products and solutions for the past 15 years, iteam has been using Metalogix® Content Matrix for a series of implementations with some impressive outcomes.
Other than accomplishing a smooth migration even in the case of large volume and high complexity, our customers greatly appreciate that they are able to:
discover security issues of previous implementations,
discover structural inefficiencies of previous implementations,
reorganize and restructure their content.
Our end-to-end SharePoint migration services using Metalogix® Content Matrix include:
Content Matrix setup and configuration services for distributed environments where content migration is of large volume or complexity (setup of Console client application, extensions Web Services or for Web Front End for target servers).
Deployment of SharePoint Lists, Site Collections, Sites, Document Libraries and Folders at Target Servers.
Copy of Sites or Site Collections, from Source to Target, at the click of a button.
Support of incremental migration scenarios until all content and users have been migrated to Target Servers.
Consulting on restructuring and reorganizing content or the security model during the migration process.
Full governance control of procedure step-by-step.
Check out all our services around Sharepoint in the following link.